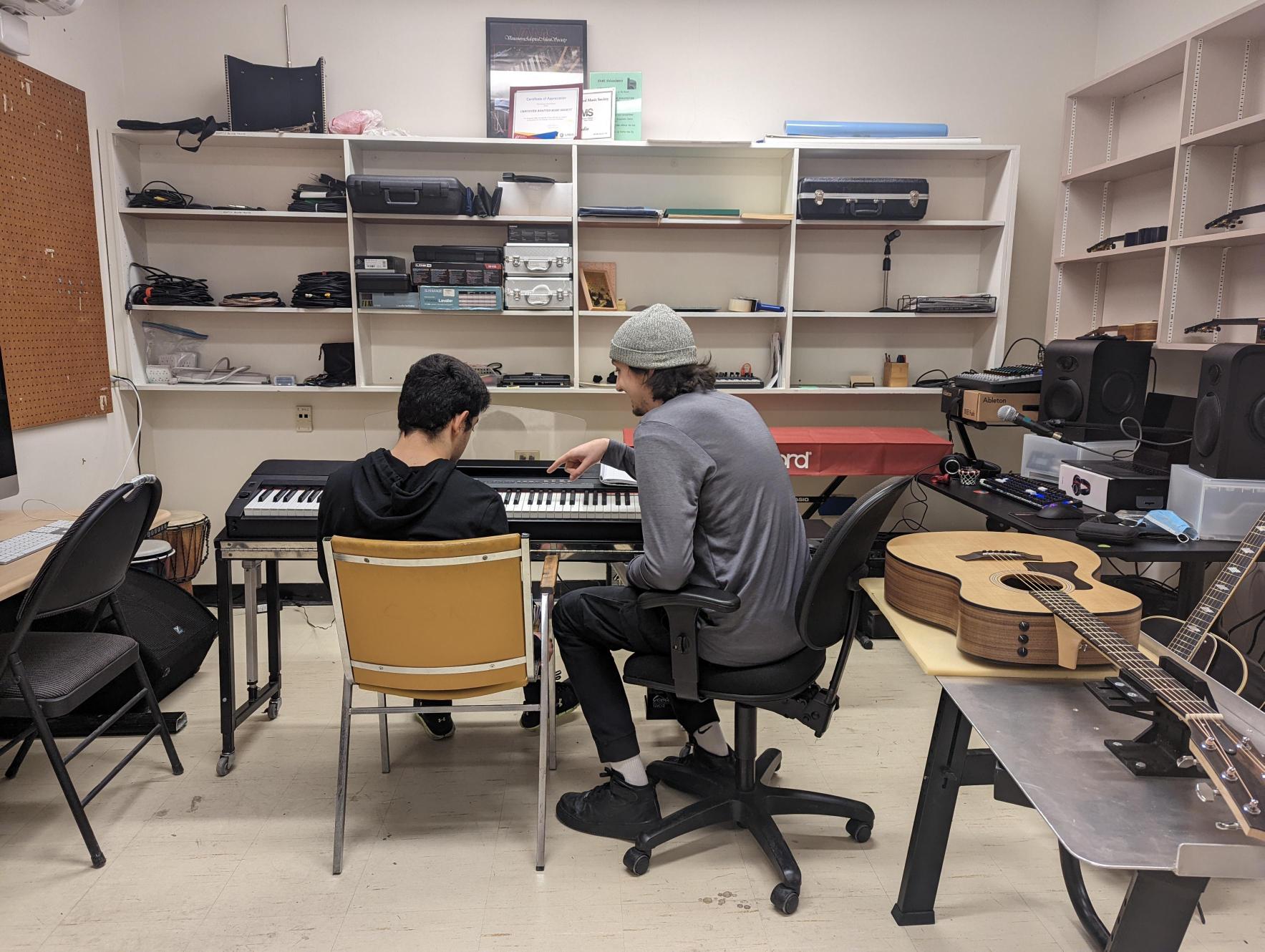 Studio Specifications
The Vancouver Adapted Music Society operates Canada's longest running fully-accessible recording studio. Every aspect of our studio, located at GF Strong Rehabilitation Centre, was designed to allow access to people using wheelchairs and other mobility devices.
Keyboards and mixing equipment are roll-under, microphones are height-adjustable, and we use oversized control switches wherever possible for people with limited dexterity. Our adaptive instruments and devices were made by Tetra Society of North America's hard-working volunteers. Here are a few adaptive options that the VAMS studio offers:
Powered adjustable piano stand: raise, lower, tilt, and roll.
Manually adjustable piano stand: raise, lower, pull in & out, and roll.
Powered adjustable "guitar table": raise and lower. Guitar lays flat, played overhand.
Guitar stand: assists with holding the guitar upright either standing or sitting.
We also have a range of innovative breath-operated musical equipment that allows people with high-level disabilities to sample the magic.
It's FREE – there is no charge for using the VAMS studio.
Meet the Studio Team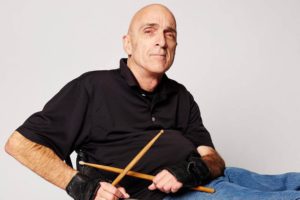 Dave Symington
Co-founder, Volunteer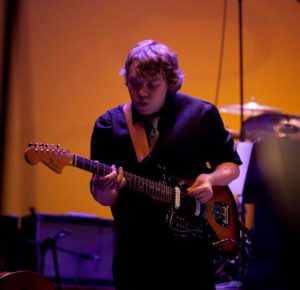 Graeme Wyman
Program Coordinator
Bryden Veinot
Program Coordinator
Studio Specifications
Recording:
Soundcraft Signature MTK12 Mixer
IMac & MacBook Pro computers, varied OS
Focal Shape Monitors
Pro Tools 2019
Ableton Live 10 & 11 Suite
Logic Pro 9
Warm Audio Bus Compressor
Warm Audio Tube EQ
Microphones:
AKG C414 XLS stereo set
Neumann KM 184 stereo set
Shure SM57
Shure SM58
Royer R-121
Sennheiser MD 421 II
Electro-Voice RE20
Line 6 XD-V35 (wireless handheld)
Shure PG185 (wireless lavalier)
Electric Bass Guitars:
Fender Jazz Bass
Ibanez SDGR 4S Bass
Amplifiers:
Fender Frontman 25R
Yorkville Power Combo 50KB
Yorkville Power Wedge 100KW
Marshall Valvestate 2000
Acoustic Guitars:
Epiphone Masterbilt De Luxe
Ovation Celebrity
Taylor 114e (Left Handed)
Digital Pianos:
Nord Stage 3
Yamaha P-155
M-Audio Axiom Air 49
M-Audio Oxygen 61
Electric Guitars:
1980's Japanese Fender Stratocaster
Fender Jazzmaster
Godin SDxt
Sterling by Music Man LK100
Prestige PRO TR
Drums:
Gretsch
Pearl
Roland V-Drums (electric kit)
Cymbals:
Smaller instruments such as MIDI controllers, brass & woodwind instruments, hand percussion, and more are available.
The VAMS studio houses many more instruments than what is listed above. These extra instruments are for clients who don't have the means to own their desired instrument. Email us at info@vams.org to learn more about our loan and donation program.