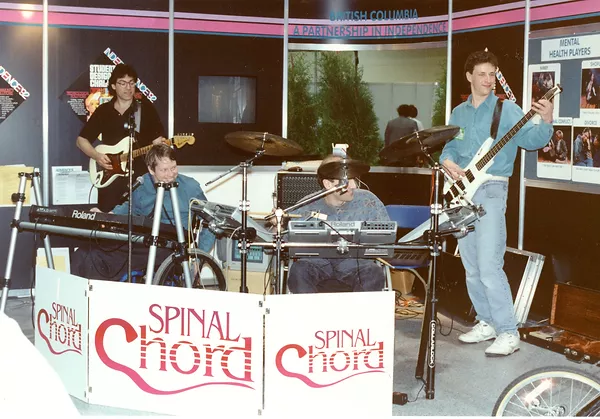 About VAMS
Vancouver Adapted Music Society was co-founded in 1988 by two Vancouver musicians, Sam Sullivan and Dave Symington, both tetraplegic.
Early Days
Sam, who played keyboards, and Dave, a drummer, formed the society to tackle the barriers faced by musicians such as themselves – issues they had not come across before they became disabled as a result of sports injuries.
"We'd both played in bands previously," explained Dave, "and were both trying to find a way back into music.
"At that time, technologies were just emerging that were creating possibilities for accessing instruments. There was a fair cost, and neither of us had money. . . there was perhaps some self-interest involved in forming VAMS, but we also knew there were other people out there in the same situation, too."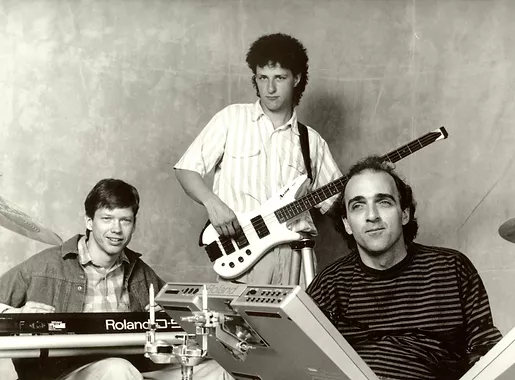 Sam and Dave formed a band around this time, Spinal Chord, with guitarist  Don Alder  and bassist John Shepp. Spinal Chord achieved national airplay, using their music as a vehicle for raising awareness of the talents of people with disabilities.
The band split in the mid-90s. Sam entered politics, becoming mayor of Vancouver in 2005 and a Member of the Legislative Assembly in 2013. Dave worked as a disability advisor at the University of British Columbia while Don has a highly successful solo career and John is a highly regarded producer/engineer (and multi-instrumentalist) working in the Vancouver area.
Today
Since the 1990s, VAMS has continued growing, introducing more and more people with disabilities, no matter their level of musical ability or physical function, to the world of music, while also arranging events to showcase more established performers. Each year, over 100 people come through the doors of the VAMS studio, looking to embark on their musical journey and our dedicated staff and volunteers are there to support them along the way. "It is still very necessary to have a society that supports people with disabilities, that provides links to other musicians, equipment and places to play," says Dave. "It's pretty difficult to do all that on your own."
Performers like Mark Ash continue connecting to VAMS through GF Strong. Mark was attending a rehabilitation program at GF Strong in 2009 when he wandered past the VAMS studio and found himself getting involved after "poking my head in one day", recording a track for Strait Goods. "It was a big boost for me," he says. His early years with VAMS resulted in Mark winning a Courage to Come Back Award in 2010. Since then, Mark has performed at the 2018 30th Anniversary Strong Sessions concert with members of The Odds, at a Strong X concert in 2019, and as part of the Strong X Virtual Concert Series in 2021.
The Future
As the COVID-19 pandemic emerged in early 2019, the world became increasingly virtual and VAMS realized the need to continue evolving, ensuring that musicians with disabilities continued to have avenues for musical expression. VAMS launched a podcast, "Re-Imagine Radio" on Soundcloud, featuring interviews with VAMS performers and others from the community of people with disabilities that we support. VAMS also launched our first "Virtual Concert Series", sharing performances by artists through our YouTube channel and on Social Media.
VAMS goals for the future….
Digital technology means that making and recording music is more accessible than ever before.. However, musicians with disabilities still face barriers, particularly regarding public performances and the costs associated with embarking on a new venture. While a city like Vancouver has many venues that proclaim themselves to be "accessible," usually this only applies to the auditorium – there are few accessible stages.
Consider  making a donation  today so that more people with disabilities have access to an outlet for creativity and self-expression.