With over forty years of performing under his belt, Joe Coughlin has proven himself in everything from heavy metal (yes, he fronted Whiteheet, a successful Ontario metal band in the late '70s) to adult contemporary (he scored a couple of Canadian top ten singles in the early 90s), but since winning CBC's Search for the Stars in 1979 and landing his first major recording contract, he's been most at home with the music of singers like Frank Sinatra, Ella Fitzgerald, Carmen McRae and Johnny Hartman, vocalists rooted in jazz who can appeal to a wider audience.
Pit him against any of the best – past or present – in a blindfold listening test, and you'll realize that like other well-kept Canadian secrets, Joe Coughlin not only belongs but excels in higher company.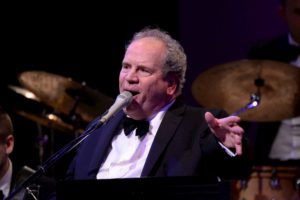 Through four decades, eight albums, one Jazz Report Award, and two National Jazz Awards for Male Vocalist of the year, he's performed with a flock of great Canadian artists with international credentials.
​There are a number of singers these days who can give a decent nod to the artists of the past, but Joe Coughlin, with his wise, easy delivery and ability to plumb the emotional and musical depths of a great and timeless tune, is the real deal.