Events
There are many opportunities to engage with others in the community. Check out what's coming up:
---

Vancouver Adapted Music Society 35th Anniversary Celebration with Marianne Schmidt
October 22
@
4:00 pm
–
11:00 pm
PDT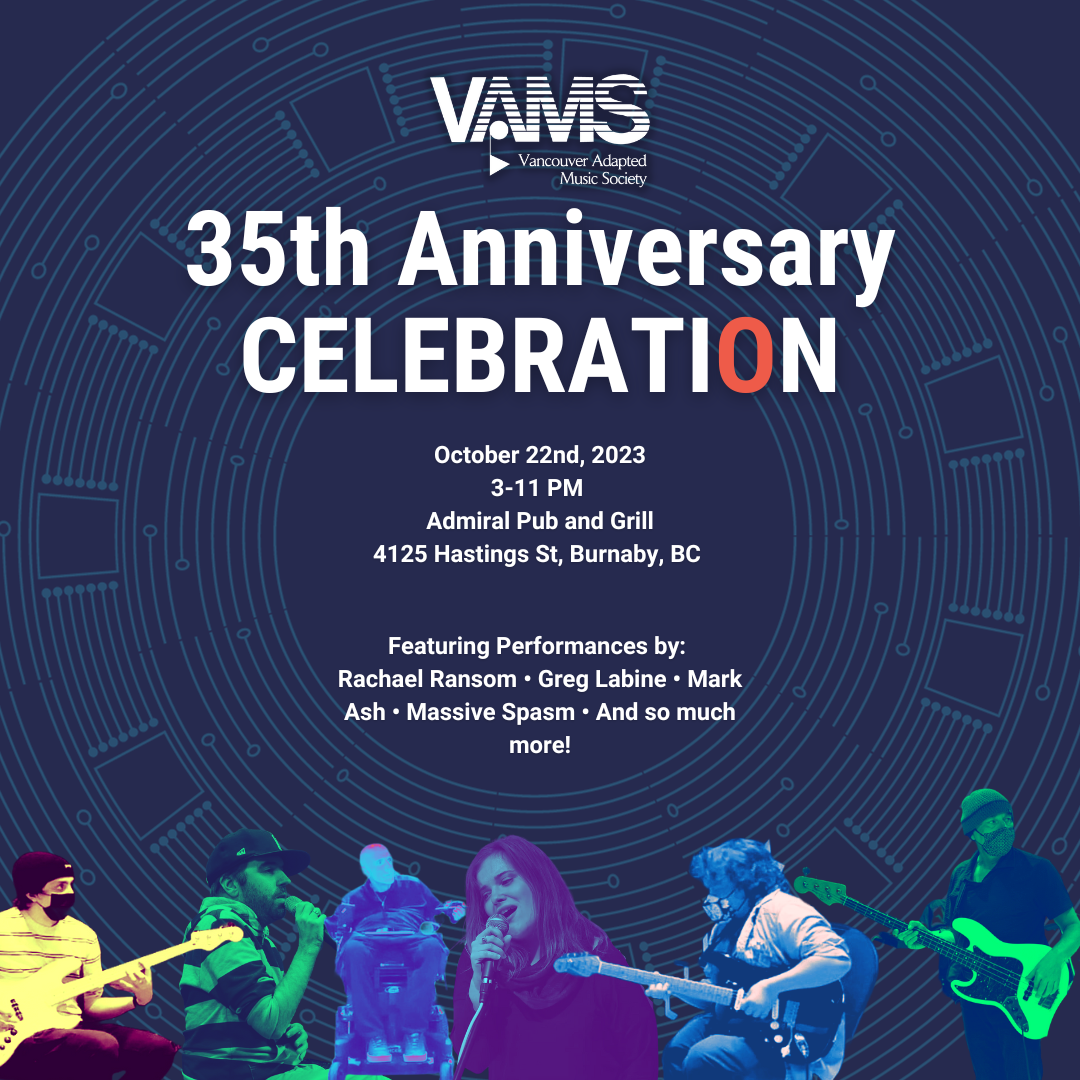 On October 22nd, join VAMS as we begin the celebration of our 35th anniversary with a concert at the Admiral Pub & Grill. Earlier this year, we celebrated Marianne Schmidt's 76th birthday with a two day concert, now she's helping us celebrate VAMS' 35thanniversary! We're so grateful to Marianne and Deb Robson for supporting us over this past year and helping us to put this fundraising celebration together!
We'll be at the Admiral Pub & Grill (4125 Hastings St, Burnaby, BC V5C 2J3) from 4-11 PM PT. VAMS Musicians take the stage at 4 PM until 6:30 or so. Join us to hear performances by VAMS musicians such as:
Mark Ash
Rachael Ransom
Massive Spasm
Greg Labine
Sticks and Tones
And as many other special guests
See you there as we celebrate 35 years of music and community. If you can, please donate to VAMS and help us keep the music going for another 35 years! Your support will go towards paying for our recently completed studio renovation, our lessons and mini school programs and so much more!
If you require accessible seating, please call the Admiral Pub & Grill to make a reservation: (604) 298-7158.
Vancouver Adapted Music Society (VAMS)
Have something to share? We would love to have you contribute!
We're always looking for more people and organizations to host interesting and engaging live disability focused webinars. If you have an idea for a workshop or presentation, we would love to hear from you.
Please email: info@connectra.org.